upgrade 2nd generation 1.8m double sided inkjet printer

Specifications
---
Usage: mirror image, different images on both sides
Plate Type: roll to roll inkjet printer
Type: Inkjet Printer
Condition: New
Automatic Grade: Semi-Automatic
Voltage: AC220-240V,50-60Hz or AC110-120V, 50-60Hz
Dimensions(L*W*H): W x L x H: 2.84 x 0.90 x 1.25(M)
Weight: 240kg
After-sales Service Provided: Engineers available to service machinery overseas
We have all been through the changes of technology, experienced the advantages brought by technology.
Technology makes our life more brilliant. As WER, we always call ourselves R&D manufacturer. We ushered our brand new double sided printer, upgraded version which can do automatic calibration when print on back side of media.
Briefing: A. 1.8m print width with two DX7 print heads. LED lights-- easy to check when print on back side.
B. Smooth small front plate for easier 2nd sided printing.
C. We also have modified tension and torque controllable take up system, make media take out more easily. and modified the feeder system to make it suits double sided printing.
D. Dry fan system make sure ink in front side is dry. Four heaters make sure ink can dry which make printing more faster.
Item
WER-ES1802
Print Head
Two DX7 Drop-on-demand Micro-Piezo Print Heads
Number of Nozzles
2880 nozzels(2 heads)
Color
4 Colors:CMYK
Resolution
1440Dpi(Max)
Height of Head
2-5mm
Size of Ink Droplet
1.5-21pl
Printing Width
1800mm
Media Width
1900mm
Real Time Tracking
2 cameras
Print Speed
2 pass: 49 sqm/hour/side
4 pass: 25 sqm/hour/side
Media Feeder
Yes
Media Take-up
Yes
Payload
70kgs
Heating System
3-section heaters with PID temperature control
Ink
T5.5 eco-solvent ink
Ink Cartridge
8 cartridges
RIP Software
Iprint 3.0 (Optional Photoprint, Wasatch)
Control Software
iPrint console
PC System
Win XP & Win 7
Power Voltage
AC220-24V 50-60Hz or AC110-120V 50-60Hz
Environment
Temperature:20-26℃ ,Humidity:40-60%
Printer Dimension
W2840× D900× H1250mm
Packing Dimension
W2920× D930× H730mm
Gross Weight
380Kgs
Advantages
---
1. The most intelligent part of this printer is automatic calibration and correction, carlibration all done by itself. And another advantage of our self-developed software is that it can calculate the maximum print width of your media.
2. Media they all have tension, especial with ink, heating and soon. The seven calibration point on Iprint Console for pre-correction of different media ensure the ultimate fine tune in your very print jobs.
Advanced auto calibration system, it makes 1) print entire roll double side image
2) different image on both sides( hanging scroll)
3) simple and efficient
4) low passes can print at back side
3. Vivid color
It's more and more hard to get people's attraction in the sea of advertising signs. An ultimate weapon to provide the best print quality on indoor/ outdoor backlit sign making, without limitation on size, color and resolution, the last obstacle need to breakthrough to win people's attraction will be art designers' imagination.
inkjet printer can print vivid color in photo quality without size limitation on post-production by using relatively low cost flex banner to replace backlit film.
4. The replaceable media handle system makes double sided printing more convenient.
To make profits, the 77802 double side inkjet printer not only offers work of art, but also outputs with high efficiency and productivity. The detachable media handle system makes double side printing much easier to operate. Additional pole can be selected for efficiency. Unique tech. supports different pass printing for back side offers more flexibility.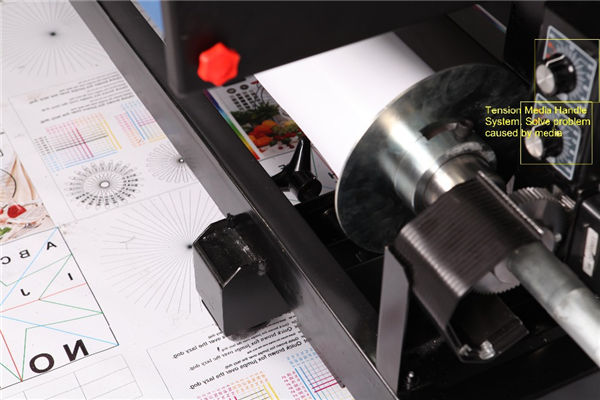 5. Mechanical precision is a critical part for double sided printing. We have done far more than just rely on that, a unique intelligent realtime tracking and correction system has been brought in to ensure the precision. A system which provides almost hand-free operation and even correct manmade error.
1.Why do we need double sided printing?
The end products are mainly for back lighting light box. The double sided light box is more vivid than single side.
Besides, the profit for double sided printing is much higher than single side. The are few affordable double sided printer in the market.
2. What the most important for double sided printing?
The double sided printing is print Image on front, and print mirrored image at back side. When light on, even a slight misalignment can be easily caught. Thus the most important thing is alignment for both side.
The common sense is use mechanical precision to enable double sided printing. It can be done by print both side at same time or print front side first and then refeed again by printer itself to reduce manmade error. This makes the printer more complicate and expensive.
Besides mechanical presion, we also need the characteristics of affordable, effective. We develop a unique system to compensate any potential printer-made or manmade mistake.
3. How we print?
1. Front side printing
It will print 8 marks at each side when print on front side.(Marks with square will be printed at beginning and ending).
It is for back side printing. Mirrored file name is useful when you get mutiple job to print. You can know which file to print back side.
2. Back Side Printing
3 scenario: First case, single sheet, cut it off when print out, flip it over and print mirrored image, start at beginning or at end, all ok.
Second case, several jobs in it. Take the paper core through backside, reload and it can print automatically. We mentioned file name in front side before. It is easy to know which file need be selected and printed.
Third case, after printing, use feeder to reverse the media back, flip paper core over and reload, then print.
Since our double sided working method is more than simply relied on mechanical presicion, print different image on block-out media, such as super hanging-scroll in shopping mall, is piece of cake.